As part of its ongoing commitment to enabling its people to develop their careers and be the best they can be, Clarion is continuing to invest time and develop bespoke training to make this happen. The firm has celebrated the first 30 lawyers and managers to complete a unique nine-month management development programme which it has designed to help colleagues to become more effective leaders as part of its investment in the future.
Clarion joined forces with organisational psychologist Dr Mark Neath to design and deliver the leadership programme. Having worked with teams, managers and leaders in a variety of sectors for over 20 years, Dr Neath used his expertise to build a bespoke programme consisting of six modules, designed to develop skills to take participants' current capabilities to the next level. The modules covered: interpersonal communication; managing and leading change; coaching and motivating others; personal resilience; building the Clarion brand; and creating high performance teams.
Central team managers, legal directors and senior associates from across Clarion were invited to nominate themselves to join the programme which launched last summer. The successful participants subsequently took part in three full-day workshops at a carefully chosen off-site venue that enabled participants to work and think differently, as well as taking part in online events and virtual drop-in mentoring sessions. Unusually, the programme adopted a coaching-style approach and ensured real-world situations were brought to the sessions, using short interviews or presentations and discussions with participants and the delivery partner.
Helen Saunders, head of people at Clarion, added: "While many colleagues were already using management and leadership skills, we were aware that there was a real appetite to learn more, and we saw this as an opportunity for everyone to be the very best they could be. The decision to develop our own programme gave participants the opportunity to shape its precise content, ensuring its relevance and adding real value to them and to Clarion.
"We've had really positive feedback from participants and are already seeing them having more important conversations, and feeling empowered. For Clarion, this is just the beginning with further leadership development planned for partners and the senior management team."
One of the 'graduates' of the management training programme, Lois Davey, senior associate in the real estate team, said: "The training has been incredibly helpful – the content and materials shared by the facilitator, along with his immense experience and expertise in this area, meant that it was relevant, applicable and I can put it into practice during my everyday work. I found the group discussions particularly beneficial, and it was eye-opening and rewarding to know that many of my colleagues and peers share some of my goals and thought processes. I really appreciate Clarion's investment in my professional development – another great example of how the firm truly 'lives' its culture by once again standing out from other law firms and putting the importance of collaboration and relationships at the heart of everything it does."
Participants were encouraged to quickly put their new skills into practice, with partners and heads of central teams kept updated with progress and encouraged to discuss the learning with participants, provide support and offer feedback.
"As we continue to grow and develop our business, it's really important that we also grow and develop our people and we felt it was the right time to invest in something different, creating our very own, bespoke programme to give our people the leadership skills they need to progress with us," explains joint managing partner Roger Hutton.
"This is an exciting initiative which demonstrates a genuine investment not only in our colleagues' futures, but also in the future of Clarion as the programme has been designed to target the skills that will keep the firm standing out for many years to come. As we continue our growth journey, we will increasingly need people with high levels of leadership skills to support the business."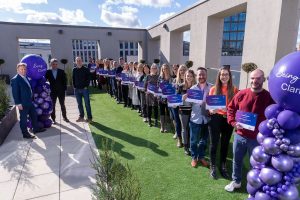 Clarion has a 300-strong team, including 29 partners, and last year once again achieved national recognition in the prestigious 'UK's 100 Best Companies to Work For'. In 2022, Clarion was again ranked as the best law firm to work for in the UK – an accolade it achieved in every quarter of the year – and it also maintained the position of number 2 large corporate to work for in the UK, and one of the top three companies of any size to work for in Yorkshire.