While the metaverse will make digital experiences more immersive, inclusive, and accessible, the platform will raise social concerns ranging from data privacy to other forms of online harm, and these will only continue unless explicitly addressed within the foundations, according to GlobalData, a leading data and analytics company.
Rupantar Guha, Principal Analyst in the Thematic Intelligence team at GlobalData, comments: "Current safety and data privacy issues seen in current social media platforms will likely be extended or even exacerbated in the metaverse. Not only will the platform follow a similar ad-based model, but it will be more immersive, integrated even further into most aspects of users' lives, and will be harder to regulate."
GlobalData's latest report, 'Metaverse – Thematic Research', notes that the use of augmented reality (AR), virtual reality (VR) and advertisements will be integral in the metaverse, however, these will bring data privacy concerns to the fore. Factors include the sheer magnitude of personal data that can be extracted, the involvement of a vast number of different developers and corporations, its disassociation from any national authority, and its unknown reach and potential.
Guha continues: "Metaverse developers must view moderating behaviour as a foundational aspect, since harmful actions will only increase as more consumers sign up for platforms. Failure to filter toxicity will have a detrimental impact on the company's metaverse ambitions and reputation."
With no standard definition yet, the metaverse means different things to different people depending on the nature of their business. This means most companies can make the metaverse be whatever they want it to be. To demonstrate the many layers and aspects of the metaverse, GlobalData's report presents a thematic value chain, splitting metaverse components into four categories: foundation, tools, user interface, and experience.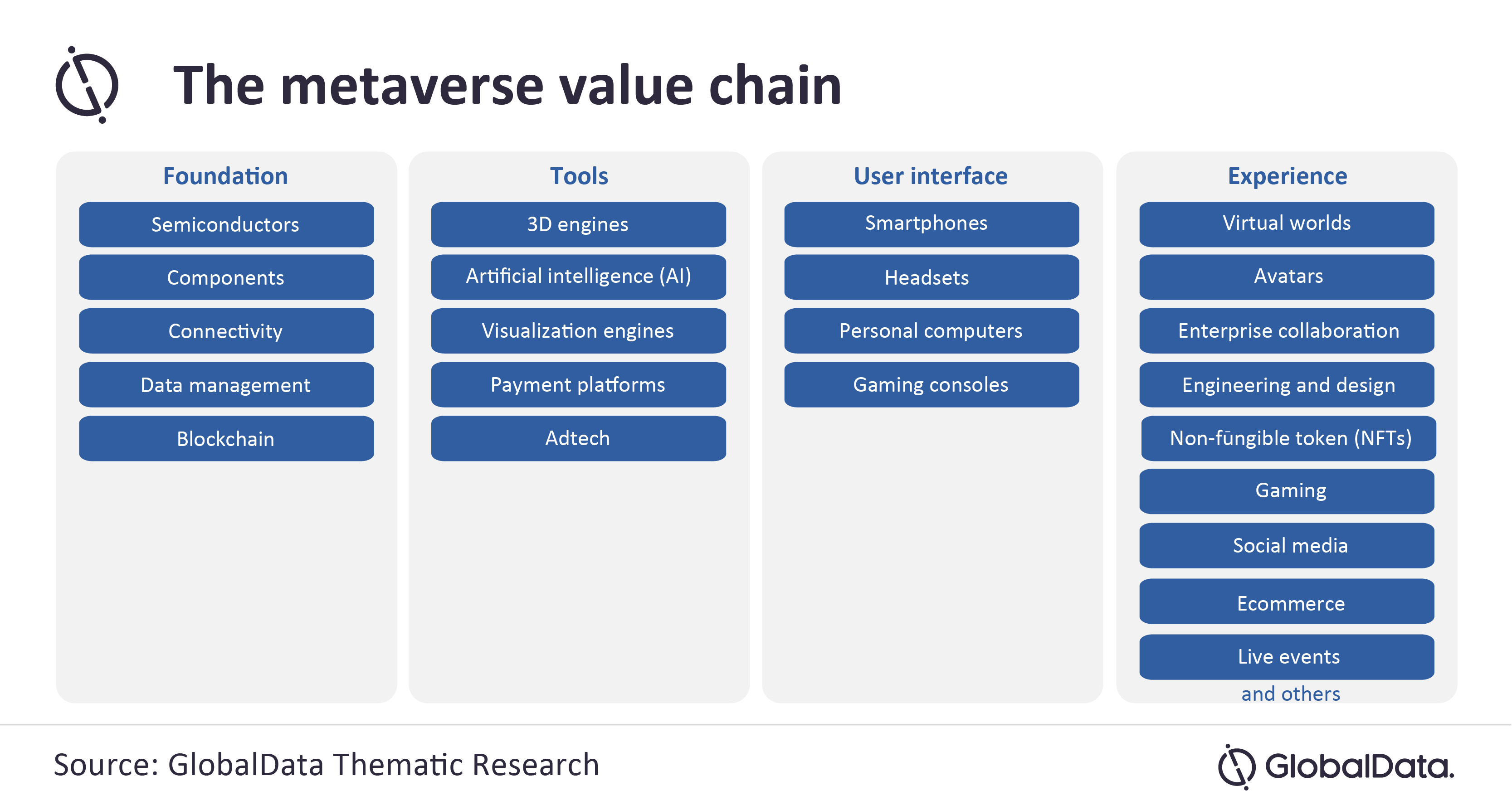 Guha, adds: "The metaverse brings together a wide range of next-generation technologies, from artificial intelligence (AI), to blockchain, and adtech. Over the next decade, the metaverse's growth will depend on the maturity of its underlying technologies."
The report also highlights that the hype around the metaverse is largely focused on consumer use cases.
Guha explains: "Gaming and social media companies are at the vanguard of metaverse development, but enterprises will lead the charge in the next three years. This shift will be driven by the future of work and digital transformation initiatives across sectors, ranging from retail to healthcare and financial services. Big Tech is championing the metaverse, with Microsoft and Meta promoting it as the ideal environment to support hybrid working."