The iconic Baitul Futuh Mosque, which suffered a terrible blaze in 2015, is inaugurating its new complex at the National Peace Symposium of the Ahmadiyya Muslim Community on 4th March 2023.
The large fire burnt down almost a third of the complex of the Mosque, including multipurpose halls.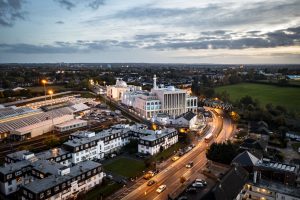 Now with the reconstruction complete, London's landscape sees a beautiful new £20 million five-storey structure that will allow community members and locals to take part in religious, sports and community events, as well as providing office space and guest accommodation.
The worldwide Head and Caliph of the Ahmadiyya Muslim Community, His Holiness Hazrat Mirza Masroor Ahmad, will inaugurate the new complex at the National Peace Symposium, taking place at the Baitul Futuh Mosque.
This year marks the 17th symposium to date and will host hundreds of people, including parliamentarians, diplomats, academics as well as representatives from numerous charities and faith communities.
Speaking about the importance of mosques, His Holiness, Hazrat Mirza Masroor Ahmad said:
"Mosques are a place for Muslims to elevate their bond with their Creator, God Almighty, and to fulfil the rights of their fellow human beings… We strive for interfaith dialogue. We value and cherish our neighbours. We are ever ready to help those who are in need. We champion the rights of the weak and deprived. We are there to serve the community and to be loyal and faithful citizens. This is our faith and this is our teaching. This is why we build mosques."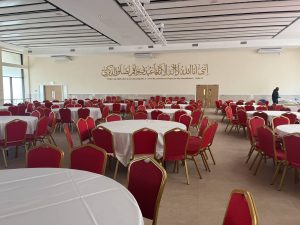 About the Baitul Futuh Mosque:
The Baitul Futuh Mosque was built in 2003 and has been open for community members and the public
The Mosque can accommodate over 10,000 worshippers
 The new £20m project was funded by members of the Ahmadiyya Muslim Community
The Ahmadiyya Muslim Community has a motto of 'Love for all, hatred for none'
The design of the new complex is based on a pure geometry and a symmetrical arrangement, which is often found in Islamic architecture, particularly in the design of mosques.
The five-storey complex includes two large multipurpose halls, offices and guest rooms.
 The new facility incorporates low energy and sustainable technologies including, solar panels, efficient heating and cooling systems, and other energy and water saving features which contribute towards its green footprint.