Klaxoon, leader in collaborative and hybrid work solutions, has announced the successful outcome of its funding round to raise €15 million. After a year of global crisis in 2022, the company –  now reporting an annual revenue generation above €20 million – has reinvented itself to go on the offensive.
Once again included in the French FT120 tech index, Klaxoon confirms its ambition to become a market leader, and finds the way to pull out all the stops 8 years after the launch of its software platform.
Klaxoon has announced the successful outcome of its €15 million funding round, building on a strikingly international year of 2022 with the signature of major contracts in Germany, the UK and the USA, and a year of supporting international brands with their global digital transformations.
The funding round with its longstanding shareholders (Sofiouest, Eurazeo and BPI) closed at the end of January, and the funds raised will allow Klaxoon to press ahead with its investments in R&D and pick up the pace of its international expansion. Klaxoon founder Matthieu Beucher is leading the US business development from his basecamp in Boston.
For the second year running, Klaxoon has been included by the French Tech in its 2023 FT120 index of French digital powerhouses that redefine the future as global tech leaders.
At the same time, Klaxoon is adapting its investment strategy to improve efficiency and get closer to the profitability forecast for 2023. The goal is to secure the resources to cope with what remains an unstable market environment.
In passing the annual revenue milestone of €20 million, Klaxoon has firmly established itself as a key player on the market of collaborative work solutions. Since its launch in 2015, Klaxoon has continually developed its software offer in response to the needs of its corporate clients, and has established itself as a leading partner of choice.
Hervé Simonin, CEO of Klaxoon: "Klaxoon is entering a new dimension as it continues the process of accelerating its international rollout, especially in Germany, the UK and the USA. At the same time, it's going for profitability in 2023. That's because the ability to sustain profitable growth has become essential in the uncertain environment we now find ourselves in. We're fortunate enough to be able to rely on the trust of our clients and on a powerful market trend that favors collaboration and productivity in corporate environments. Klaxoon is the perfect tool to meet the needs of major accounts in search of a solution that can be rolled out at scale securely, and boost employee engagement. I would like to thank the shareholders for their continued and unwavering support."
If proof were needed, Klaxoon has just received two @G2* Best Software Awards; one for Best Software in France, the other for Best Collaboration and Productivity Products!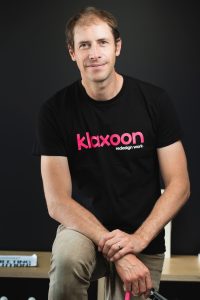 Matthieu Beucher, Chairman and Founder of Klaxoon: "This funding round takes our development to a new level. Despite the global crisis of 2022, we were able to join our forces and come out on top, bigger and better. With Hervé Simonin on board, we're set for success with a team that's more talented than ever, and great prospects for international and French growth."
(*) G2 is a peer-to-peer evaluation platform that advises organizations with their selection of the best software and services available in today's market.