National consultancy law firm Excello Law has opened a new office in Nottingham and welcomed a significant team move with the arrival of insolvency, corporate recovery and dispute resolution specialists Nicky Calthrop-Owen, Victoria Dunstall and Annabel Whittaker, who have joined from local firm Actons.
The opening of the Nottingham office, in the Dryden Enterprise Centre, brings Excello's national office network to 11 locations offering its 200+ consultant lawyers modern, City-centre facilities for hybrid and collaborative working as well as client meetings.  The new insolvency team joins local real estate solicitors Matthew Neiland and Michaela Story, and a wider Midlands team of 35 based out of Birmingham and Leicester.
Nicky qualified as a solicitor in 1990 and became a licensed insolvency practitioner in 1998. She has been consistently recognised by the Legal 500 and Chambers legal directories and advises clients in complex insolvency / restructuring matters and partnership disputes.
Annabel is dual qualified as a solicitor in 2006, and an insolvency practitioner in 2012, providing legal advice on all corporate and personal insolvency matters, while Victoria, who qualified in 2001 and gained the diploma in advanced litigation in 2005, specialises in both contentious and non-contentious corporate and personal insolvency matters.  Both are ranked as Next Generation Partners in Legal 500.
On joining the firm, Annabel commented: "We have reached a point in our careers where we are confident that our reputation and experience enables us to generate our own work, and additional work we can refer to solicitors in other practice areas. The freedom and responsibility offered by Excello Law's structure and ethos was the main attraction of our move to an established and successful consultancy practice."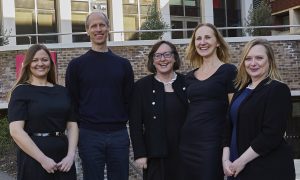 Joanne Losty, chief operating officer at Excello, said: "Nottingham is an increasingly important commercial hub and it is great for us to have office facilities at the heart of our client base.  Our team is all locally-based and this solidifies our presence in the area, giving us a visible platform to recruit more consultant lawyers in the region.
"We have the largest office network of any of the consultancy firms –– and it was a natural extension of our growth ambitions in the central region to open new facilities in the East Midlands to support our team.  We're delighted to have a permanent base in the city and look forward to recruiting more lawyers to the firm."